Making Bedtime Fun
No more bedtime battles. No more Monsters under the bed. No more leave the lights on.
Your kids will be excited to go to bed to see their blankets and pajamas come to life when you turn off the lights.
These throw blankets are perfect to take over to Grandma's house for a weekend, wow their friends at a slumber party, build the coolest fort with, curl up on the couch, or even take to the family camping trip. And who doesn't love pajamas to match!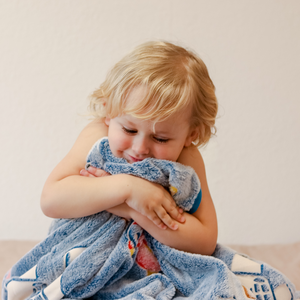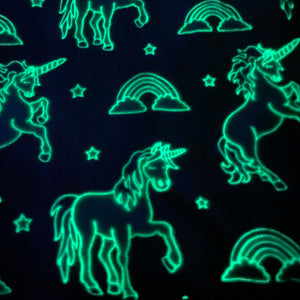 How Do I Get It To Glow?
Easy! Before bathtime and brushing teeth, place the blanket under a bright light for 30 minutes, then take the blanket to a dark room and watch it glow.
Some light sources allow the blanket to glow brighter than others. Try to avoid, white LEDs and diffused lights.
The Perfect Gift
"It's like MAGIC!" - Carly, 4
Tired of giving toys? Give them a gift they will love and use for years to come.
Glow in the dark blankets make the perfect gift for anyone and for every occasion. Get it for your son or daughter, niece or nephew for birthdays, Valentine's Day, Easter, Christmas and more.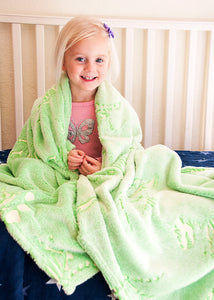 Year Round Joy
These super-soft blankets and pajamas are perfect for lounging on the sofa, bed, couch, and light enough to take in the car.
They make great lap blanket for people of all ages. They will keep you warm during the fall and winter, yet they are light weight enough for those warm summer nights.